Milan, IT
Open Fences
The former Enel area has a privileged position in the Milanese metropolis. It is the barycenter of the new territorial system recently innervated by the M5 metro line.
The opening of the industrial fences in the area is the occasion to complete the sequence of the existing public spaces along the new metropolitan system.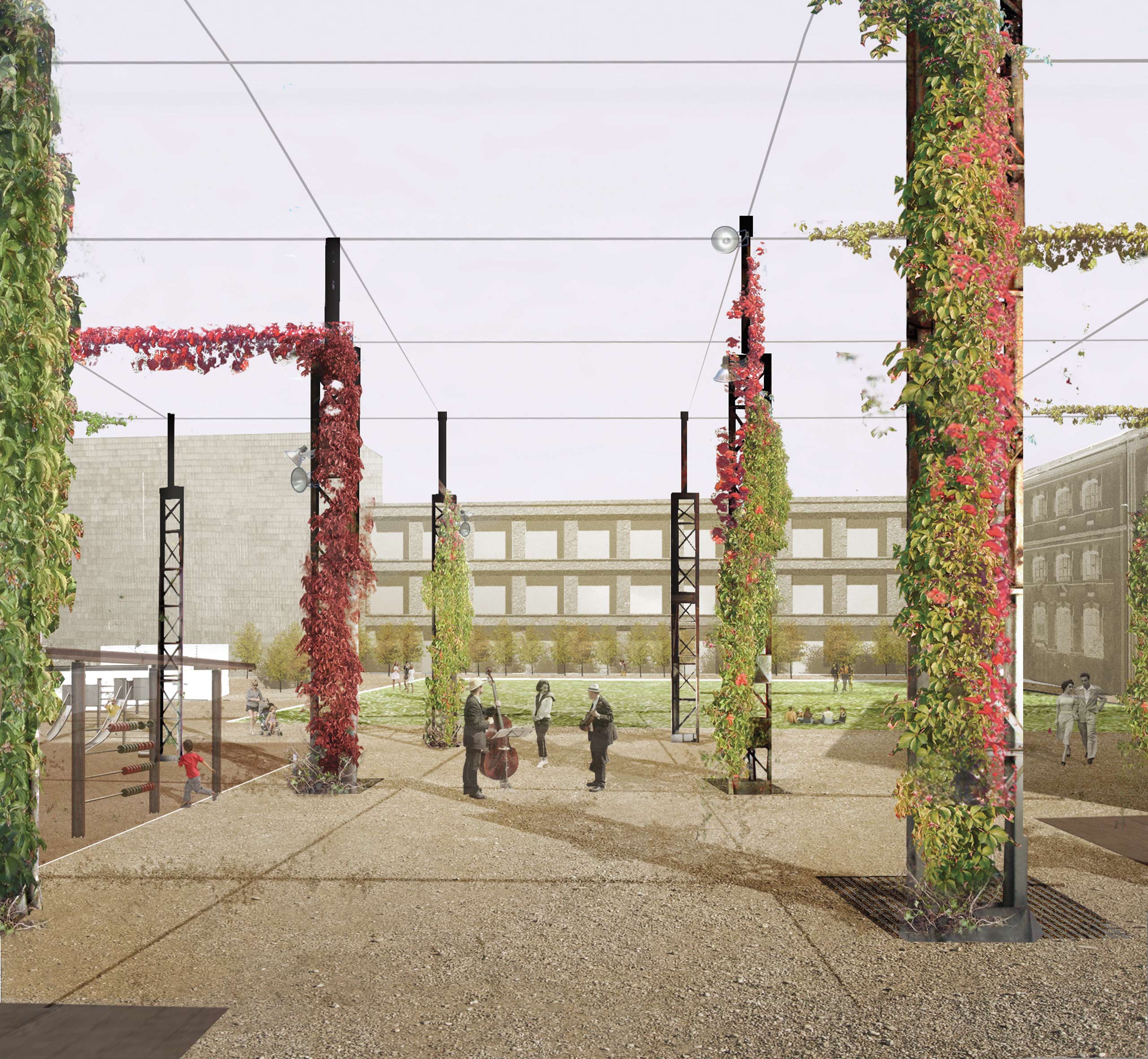 Two new open surfaces act as support both for the city and the neighboring communities. The first, enclosed by the existing buildings, is designed as a green and silent square surrounded by a climbing plant forest and a line of trees. The other, exposed to the city noise, is surrounded by a translucent colored filter and characterized by soft stony slopes.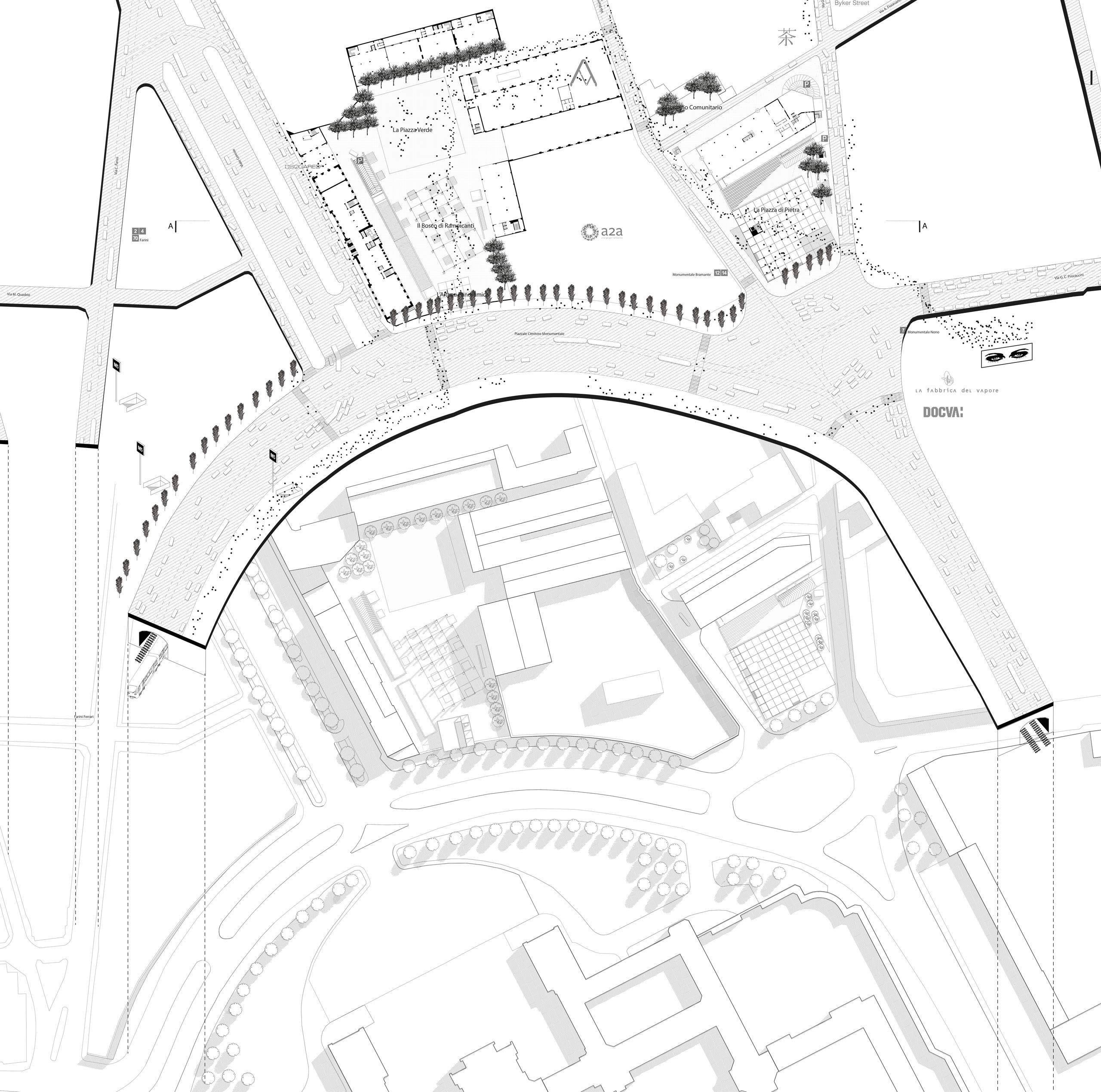 Green Carpet
The new access on the site's south side ensures a direct connection between the square and the metro station. The Green Carpet is conceived as an intimate and enclosed space in contrast to the noise and speed of the city beyond the wall.
An elevated ceiling and a grid of metal pillars guide the visitor through a forest of creepers dotted with clearings from which the sky can be seen.
The perspective vanishing points overlook a soft grassy carpet in the center of the square. On the opposite side, over the existing historic wall, a new public terrace looks among the Monumental Cemetery entrance.
In the background, a row of flowering cherry trees marks a passage paved in Luserna stone which links the area to the new Adi Design Museum.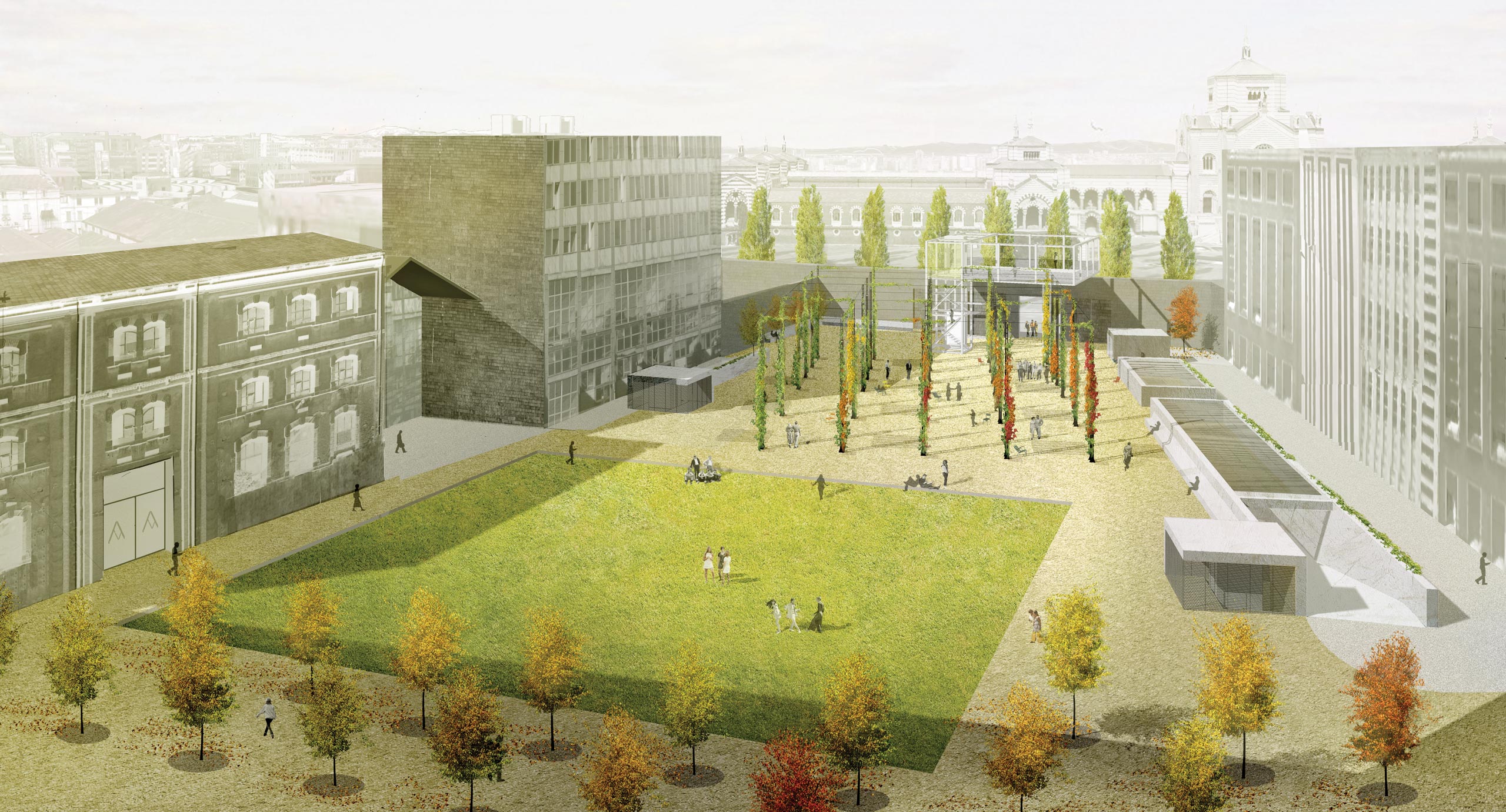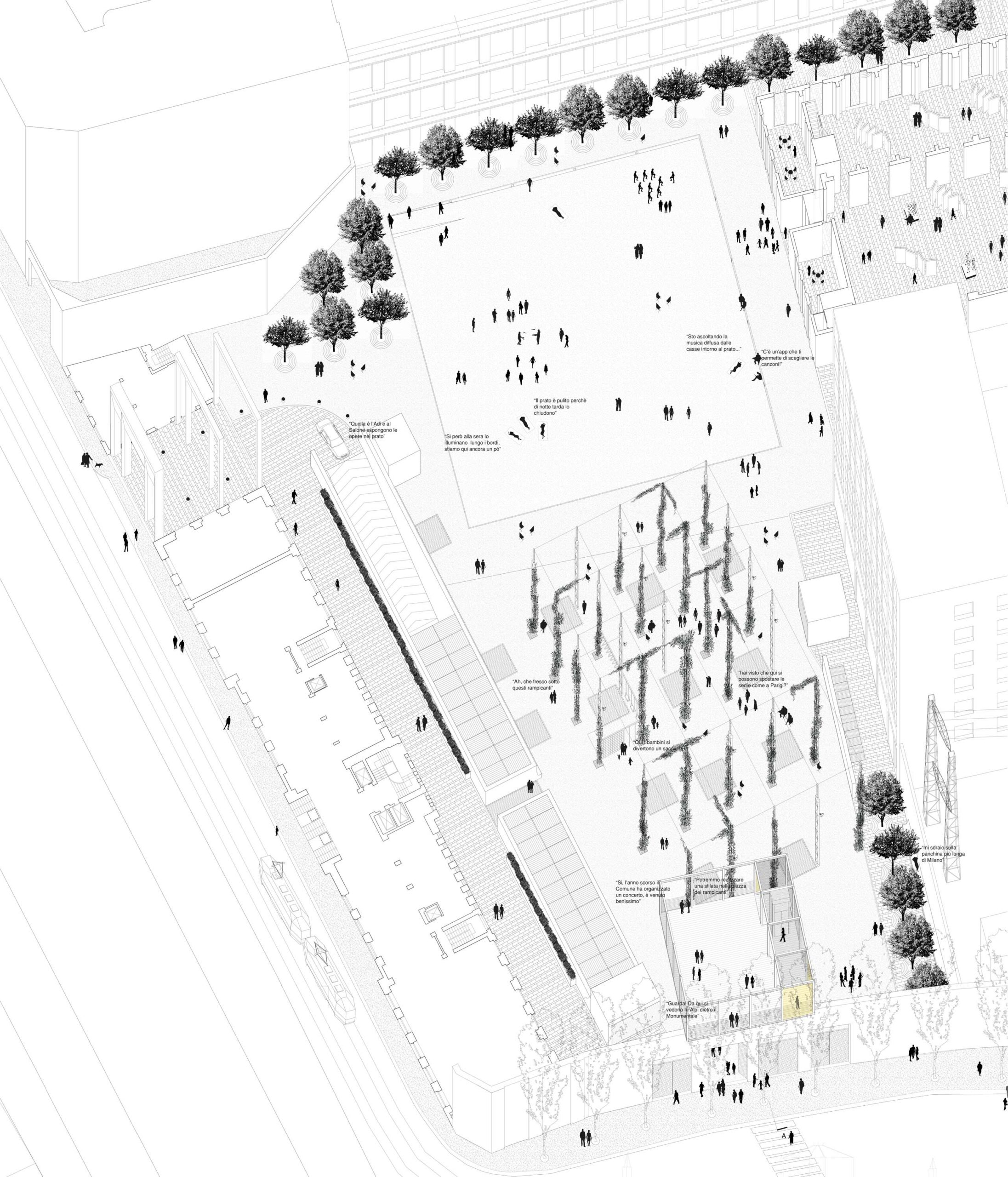 Mineral Carpet
Inside an irregular-shaped block, the project aims to define the edge of a regular square perimeter marking it by translucent colored walls and covering.
The new architectural device filters the noises of the surrounding city and protects the existing tram station from the rain and sun, working as a new city horizontal landmark. Inside, over an underground parking, two opposing terraces face different angles and create the stage for an unusual sloping landscape for the city. This double inclination suggests a dual directionality in the use of the square during the various hours of the day, depending on the shift of the sun.
Outside, trees and greenery areas surround the mineral square connecting it with the nearby sidewalks and streets.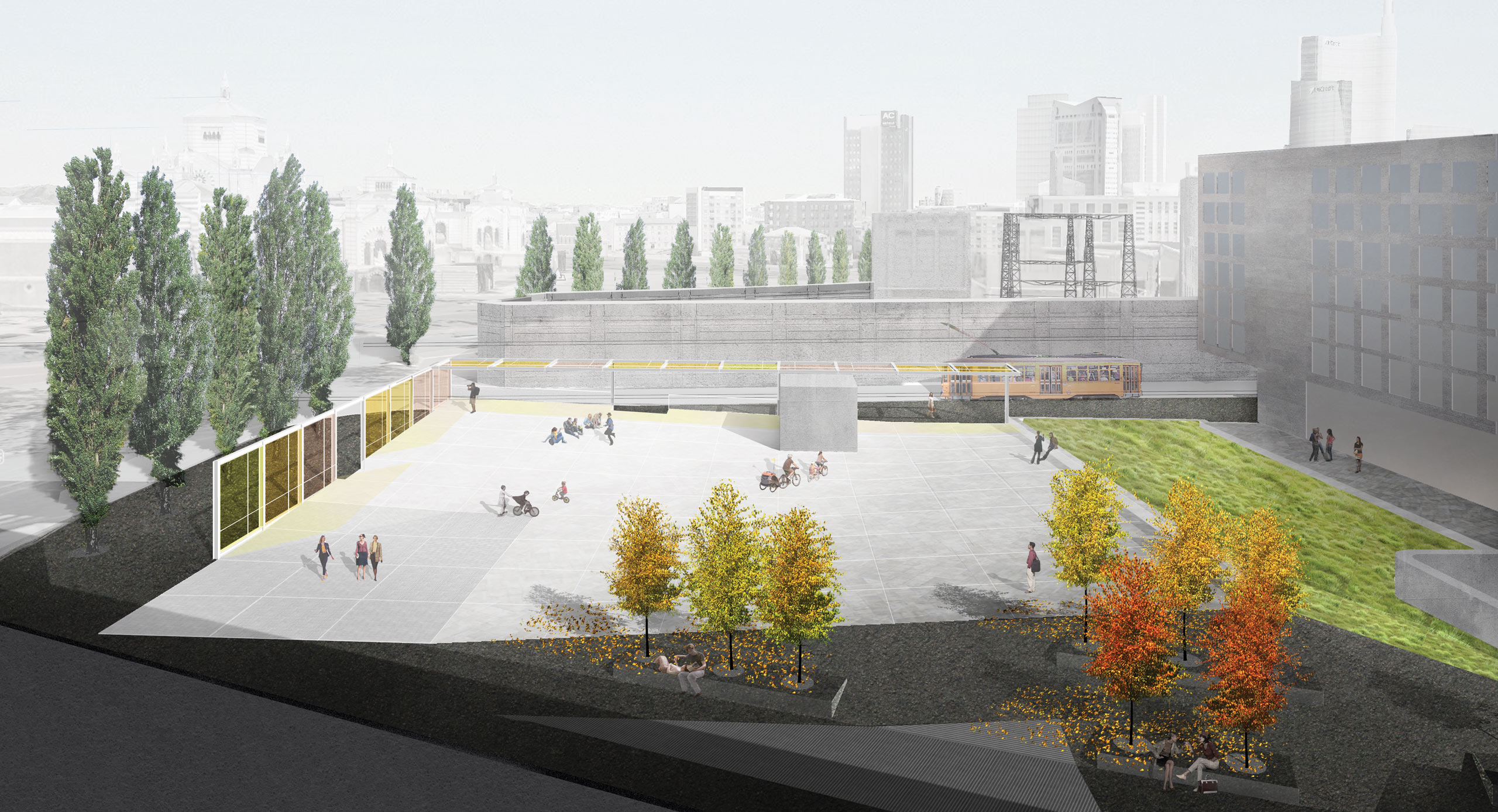 Project

Open Fences

Place

Milan, IT

Year

2012

Competition

Competition by invitation

Consultant

Landscape design: Simona Giorgetta; budget analysis: Sylos Labini Ingegneri Associati

Team

Laboratorio Permanente: Nicola Russi, Angelica Sylos Labini, Pietro Ferrario, Alessandro Benetti, Lorenzo Visioli, Marco Gambaré, Mattia Buonriposi